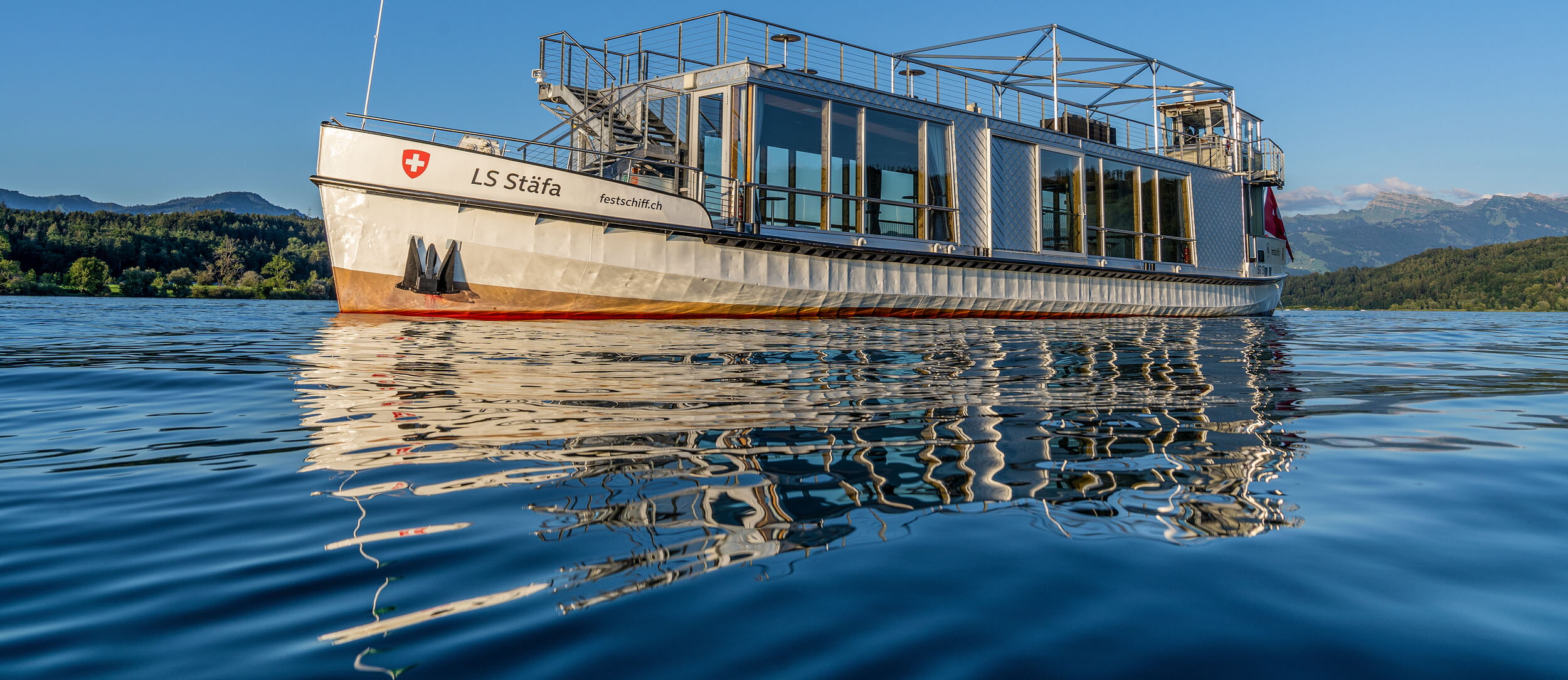 LS Stäfa – An elegant way to travel Lake Zürich
Enjoy a relaxed trip on the LS Stäfa's sundeck. The two-level layout offers plenty of space for you and your guests. The passenger deck is enclosed with glass panels. In addition to state-of-the-art infrastructure, it also features underfloor heating and air conditioning – for trips the whole year round.


Contact
Booking
LS Stäfa can accommodate both small and large parties.
Surface area
76m2 Interior space
70m2 Sundeck
We provide the infrastructure for your event. Take advantage of the facilities offered by our boat to add a unique, personal touch to your celebration.
Furnishings and equipment
Galley with oven
2 refrigerators
Buffet/storage space
Underfloor heating
Separate women's & men's lavatories
Bistro tables (optional)
Lounge (optional)
Technology
86 inch 4K screen with single connection (Barco ClickShare) for any Apple, Microsoft, Android and iOS operating system
Multi media system (CD, USB, SD, Bluetooth), CD-DA, MP3, WAV und AAC audio formats, DAB+/FM-Tuner
Wireless handheld and headset microphones
Deck equipped with interior and exterior loudspeakers
Seating
Choose from a wide variety of seating configurations. We look forward to discussing your wishes.
80 people

Square tables seating 5

120 people

Auditorium style

120 people

Stand-up reception




Our fixed vessels can moor around Lake Zurich. Choose from a variety of options.
To complement your event with outstanding fare, we can recommend the following caterers:
Dolce far niente event-catering, Zürich
Egli Catering AG, Pfäffikon
Fredi Bloch, Bäch
Marina, Lachen SZ
Metzgerei Betschart, Schmerikon
Metzgerei Jud, Uznach
Sirana Catering, Enneda
Tuck-tuck, Rapperswil
Zahner Fischhandel AG, Gommiswald
Chart a course to an unforgettable event
Book now to reserve the date for your event and celebrate a special occasion with a relaxed trip on one of our party boats.
Please complete the form or contact us directly on +41 55 286 14 67.
We look forward to assisting you with detailed information on available embarkation/disembarkation points, schedules and catering recommendations.